This article is an expansion of Moonriver Chain - Getting started
AnySwap released a bridge between MOVR and BSC.
You can bridge BNB to bridge to Moonriver Chain.
Update 2022: Better to bridge stables (USDC/USDT) because BNB liquidity might be low.
Head to MultiChain and connect your wallet, make sure you are on BSC mainnet.
Enter the amount of BNB you want to bridge and click swap.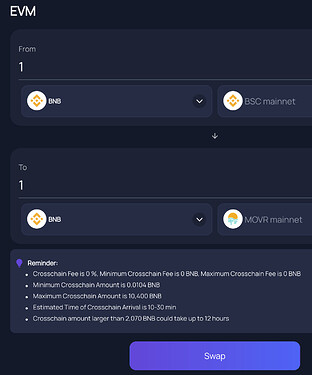 Visit the AnySwap Explorer to lookup your TX status or follow the given TX link after your swap has been initiated.
In the mean time, switch to Moonriver Chain network.
After the TX status is Success, you can visit SolarBeam to swap your BNB for MOVR (or any other stable).

Easy, right?
Faucet
After bridging, you can get some MOVR for gas from the faucet on movr.supply