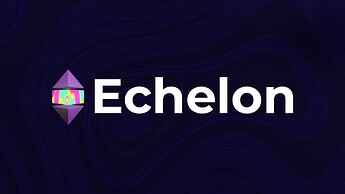 Echelon Network
Echelon is a high-performance, scalable, EVM-compatible, Cosmos-compatible, and secure smart-contract platform.
Echelon's mainnet deployment—echelon_3000-3—is built on Tendermint's BFT consensus mechanism and Cosmos SDK. Echelon is a leaderless, asynchronous, and byzantine fault-tolerant Layer 1 blockchain protocol, network, and interoperable blockchain.
Tendermint enables Echelon to deliver fast EVM transaction speeds, low transaction costs, and deterministic finality. This is achieved while remaining permissionless, decentralized, and open-source.
MetaMask details
Name : Echelon
RPC URL : https://rpc.ech.network
Chain ID : 3000
Symbol : ECH
Explorer : https://scout.ech.network
Bridge
If after 2-3 minutes your echelon are not in your wallet go to explorer and get the tx hash and enter it in the Repair Tool
Buy Echelon
DEX
Charting
Explorer
More links