Some tips and tricks I wish I knew earlier. Will keep updating as I learn

1. Save gas!
Never use the autofilled MetaMask gas (unless you don't care about gas)
Keep a tab open on this GasTracker. I tend to find this website very accurate and it's almost real-time data.
Before you press confirm on any transaction, edit the suggested gwei. You'll find that it is (often) way higher then the actual gwei, up to 3/4 times as much. Edit the gwei using a number from GasNow.
Be careful with this. It can cause stuck transactions if gas spikes. You'll have to find a safe but fast amount of gwei, there is no perfect number. If you don't wanna risk a fail, make sure to use enough gwei ("Rapid") or higher.
If you want a better understanding of how gas works, you can visit this article:
2. Stuck transactions
We all had this at least once. If this happens you'll discover that canceling can be very expensive sometimes.
My advice, if you need to clear your queue and have a stuck TX, speed it up and add sufficient gwei that matches the actual gas prices.
3. Offers on OpenSea
Bidding on NFT's can get you nice deals every now and then.
You need Wrapped ETH to bid, but you can use this WETH on an unlimited amount of bids, but you can't bid more then the amount of WETH you hold.
Example: You hold 1 WETH, you can bid 25 times 0.9 WETH, but you can't bid 1.1 ETH.
So nope. You don't need to have lots of WETH to keep bidding on NFT's.
4. OpenSea offers vs buy now
This may make sense if you read it, but you might not be aware of it. But who pays the gas?
You pay the gas if you buy using buy now
Seller pays gas if they accept an offer!
Don't forget old offers tho.
5. Gas Chrome Extension
You can install this extension for a very fast overview on the current gas prices.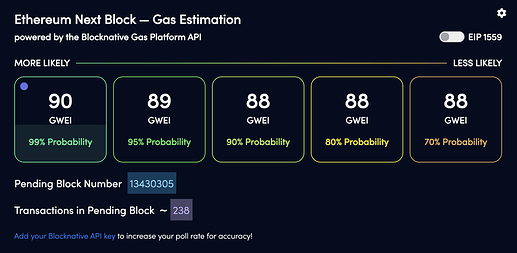 5. Dune statistics
Use Dune dashboards to check interesting NFT statistics. There are multiple useful dashboards made by contributors. I linked some good ones in this post.
6. Icy Tools
Icy Tools provides live data on activity in the NFT market. Find new mints or projects with increasing volume here. Premium version (0.03 ETH monthly) is worth it if you are active in the NFT market. They also have a floor checker for your wallet, and you can follow other wallets.
7. Buy in bulk, save gas
Use genie.xyz or gem.xyz to buy NFT's in bulk and save on gas! When you visit the site it's easy to understand, no further explanation needed.