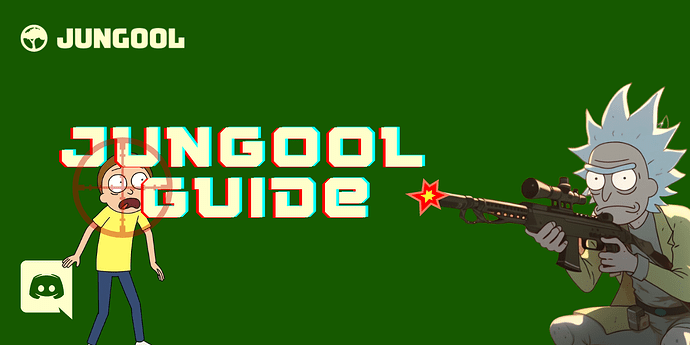 The first true 'ape' integration with Rick. You can now quickly ape tokens, just one tap away. But how does it work? For this integration, we partnered with Jungool (known from Bagheera bot).
Rick simply shows a quick-buy button (

) that fires in your buy, on all supported tokens (I heard Base will be supported soon

).
Beta feature - only available in selected servers, but will soon be pushed to all servers.
Quick Start
Join the Jungool server: Jungool
Go to the

#sniper-config

channel
Setup & fund your wallet
Configure your quick snipe settings
Open DMs for Jungool and servers you want to use quick buys.
You are ready to go

Read the full Jungool Sniper Setup Guide.
DM privacy must be open in Jungool server AND in the servers you want to use quick buys with Rick.
Important notices
@server-admins: make sure that Rick has add reaction + manage messages permissions!
Spamming the reaction may result in multiple buys!

Your default quick-buy settings are used; these can be configured in Bagheera bot.
Security
Rick does not handle your private keys.

Rick never knows your wallet addresses.

Bagheera will, for security reasons, always require a confirmation in Bagheera DMs before actually buying the token.
FAQ
Is this safe to use?
Rick only sends a request to Bagheera, you still have to confirm your transaction yourself in the DM with Bagheera. Your transactions are always processed within Bagheera. However, treat this like any bot wallet - keep funds to a minimum!

How do I know if my buy went through?
Within seconds, you always get feedback either from Rick or Bagheera. Rick will notify you if something went wrong on Bagheera's side or if there is something wrong with your account (e.g. no DMs opened or no wallet). If everything is OK, Bagheera will ask for confirmation in DMs and handle it from there.

If you don't get feedback at all, something went wrong, but your buy is never initiated before a DM is sent. In most cases of an issue, Rick will provide some quick buy links to Maestro or BananaGun.

How do I sell/manage positions?
You can manage positions in any supported server, including the official Jungool server. Read more about position management.
Preview
About Jungool
For support on the Jungool/Bagheera side of things, join their Discord.
About Rick
For contact about Rick, join Alpha Pack server and contact @mentionlux.
Also available, on Talk Markets, Twitter, Telegram and Discord: @mentionlux - on Twitter - on Telegram