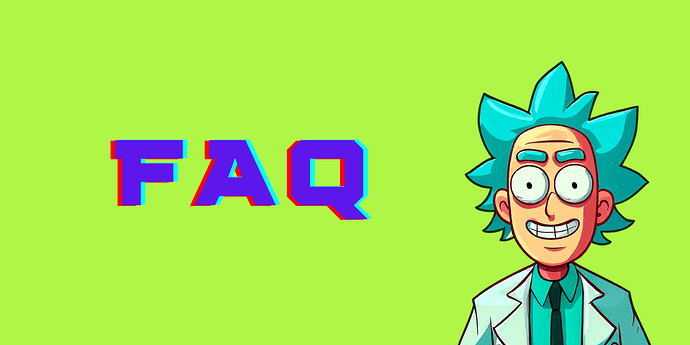 This is the generic FAQ article. For now this is unsorted, as more FAQ items will be added, the topic will be split or organised differently.
How does the BurpBoard work?
Rick tracks every token that gets shared and will remember the lowest FDV at the time of the shill.
In the leaderboard feeds (scroll down on how to add), Rick will post the performance of the tracked tokens across all servers.
Every hour: Top tokens tracked in the last 24H
Every evening: Top tokens tracked in the last 7D
Every month: Top tokens tracked in the last 31D
Lines explained
🥇 | TOKEN NAME @ Lowest FDV Shared ➜ Current FDV Δ DELTA
   ↳ by USER (REPUTATION) [FROM SERVER_NAME]

How to add BurpBoard to your server?
Create a read-only channel in your server.
Join Alpha Pack
Click "Follow" in the ・burpboard channel.
Select your server and the channel.
Updates are automatically posted to your channel.
Total holders (TH) line explained
What do the abbreviations for the Holder Analysis line TH.. mean?
TH = Total Holders analyzed
F = # of wallets failed to simulate sell
SIPH = # of siphoned wallets (tokens drained without user interaction)
AT% = Average Tax in %
GAS = Average Gas
HT = Highest Taxed Wallet
HTW = High-taxed wallets (>50%)
This info is documented in the official honeypot.is docs, an actual overview of warning flags can be found here.
Follow BurpBoard on Telegram
Skull meaning
The

emoji shows for renounced contracts on ETH contracts.
Fire emoji meaning
The

emoji shows if the token you're checking is currently at it's ATH.
Using Rick alongside other bots
We understand that you might want use some features of Rick, and prefer another price bot. Rick can be in your server/chat with any other bot. There are multiple solutions available:
Create a seperate channel for Rick or the other bot(s) - only allow the bot to read/send in this channel.
Change the preference for Rick's behavior on contracts: /noresultmode off stops Rick from replying to contracts that have no active pairs. /pricemode off stops rick from responding to contracts. This way, Rick will still keep track of your watchlists and you still participate in the leaderboards.
Keep in mind that Rick is designed to be in every channel. As a server admin, it's advised to set some rules about command/AI usage.